This week we hit the big smoke with our first Australian metro launch in Brisbane, QLD.
Our launch exceeded our expectations in so many ways; the guests were all amazing, the venue was spectacular, the food was delicious and the drinks were awesome!
Awesome Collaborators
We were so lucky to team up with 2 awesome companies who contributed greatly to the success of the event. Both Spire Residences and Cocktail Porter came onboard to showcase their wares.

Incredible Private Dining Room
There is a definite trend in Australia for new apartment buildings to have amazing facilities for residents which makes the place way more livable – the rooftop dining room at Spire Residences is ones of these facilities.
The view is dramatic! It's on the 40th floor, overlooks the Brisbane River and sits right next to their gorgeous infinity pool. It's an enviable space available to residents and their guests, or people booking an apartment for a holiday.
The dining room includes a commercial kitchen ideal for hiring a private chef — so that's where we come in!
Our Launch Culinarians
Three Culinarians helped make our night a success; we started with poolside grazing platter and cocktails, then two mains from a custom menu that Chris put together for us, and finally a chilli chocolate mousse dessert from Nicky's Mexican menu.
Fabulous New Friends
A huge thanks to all the amazing people who helped make our launch a success. Nicky, Junie, Bronwyn, Cat, Chelsey , Cat & Andy, Pip, Shae, Stephanie & Jess.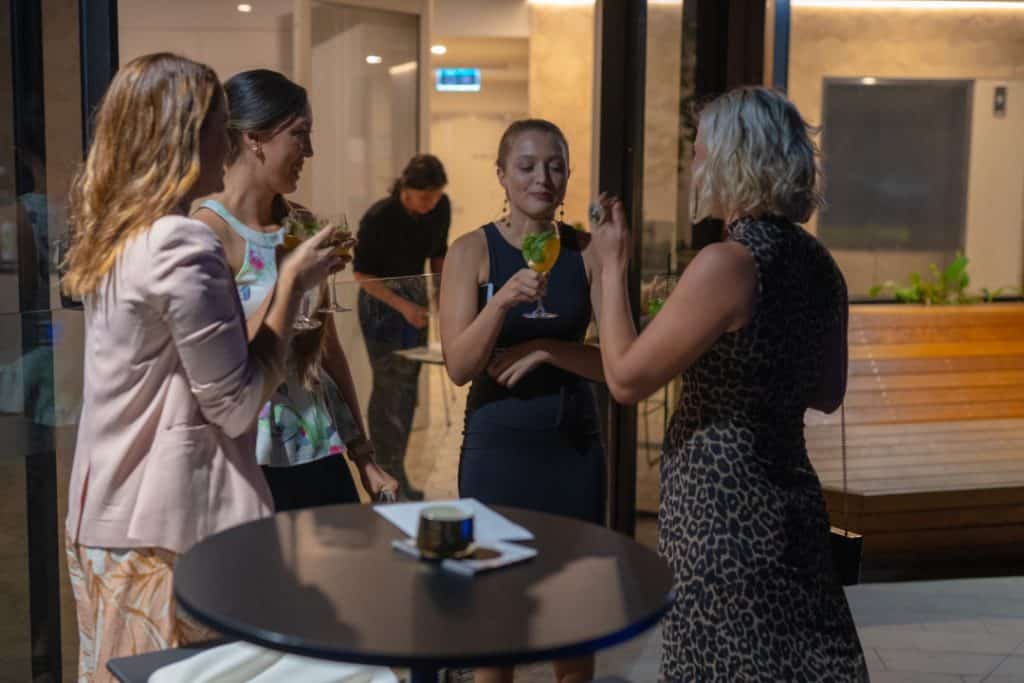 Throughout my career I have facilitated community … And I've always been struck by the perfectness of the people who show up to the 'firsts' – first cohorts, first groups, first supporters.

Last night was another one of those 'firsts' – random people who didn't know each other, who left with their hearts a bit fuller, in some cases their confidence higher, and theirs lives, fuelled.

The magic of the human connection last night, as the Brisbane first, tells me, Gathar is about to fly.

Cat Mason – Brisbane's Chief Digital Officer